HI EVERYBODY!!
Penguins don't really get married, they just pick a mate and swim off someplace and have baby chicks, like me!! But Phil and Angie did it the old fashioned way, sort of. Here's what happened.
See you later!
Will you marry me?
On Valentine's Day, February 14th, 1999 (who says there is no more romance) Angela Schweikert accepted the proposal of marriage from Phil Barker, Jr. During this momentous occasion, a ring was placed upon her finger.
The ring itself was picked out by the future Mrs. Barker at Rogers and Holland's jewelers earlier that week. Because of some extraordinary timing, we got the ring sized to fit the day we went to purchase it. This meant that it sat in a wrapped box sitting on our coffee table for about 4 days. It was formally presented on bended knee at approximately 7PM, in between Titanic laser discs (for those of you haven't and especially for those who HAVE seen the movie, a t-shirt with these words of wisdom come to mind: "THE BOAT SINKS! GET OVER IT")
The ring itself is a "Trilliant"cut solitaire diamond ring. The diamond is .25ct in size with a J-color grade and I1-clarity (whatever all that means.) It is mounted in a three-point 14K yellow gold setting.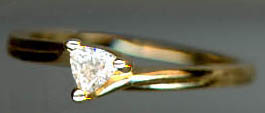 For more information on what happened to Phil and Angie,
please go to the Wedding Pictures page.
All original works on this site are copyright © 2004 Phillip A Barker, Jr, (except where noted or owned by others), and are registered with the U.S. Copyright Office.